General Info
Address: Karlovo náměstí 15, 120 00 Prague 2, Czech Republic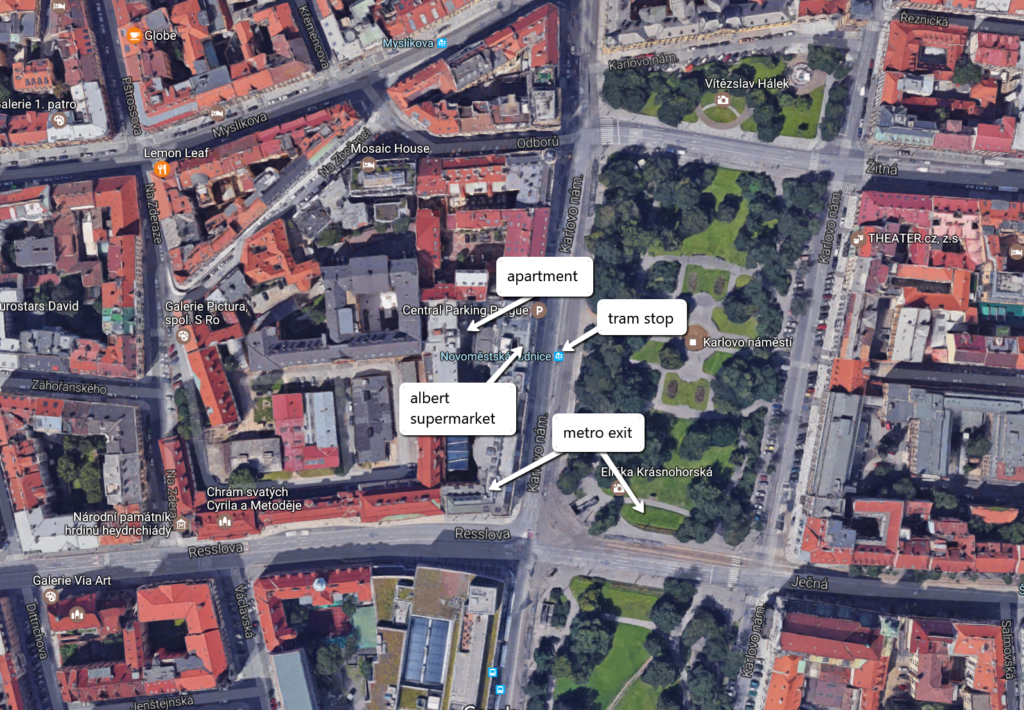 ---
Before We Begin
Use the currency converter before you go to the exchange.
It will be floating +-5% around this but not more. Ask how much you get before handing over any money. Do not exchange to Ukrainian currency on the street :/
---
Public Transport: General Info
The closest metro station (B/Yellow line) and tram station are Karlovo náměstí (Charles square).
From the metro you need the Karlovo náměstí exit (be careful, both ends of the platform have an exit and the wrong one is pretty far away).
The apartment is located in the inner yard, the same space as the parking lot. The entrance to the yard is next to the Albert supermarket.
Ticket vending machines are placed near most transport stops and on each metro station. Most machines do not accept credit cards but you can purchase tickets from small shops (Relay, Zabka, etc.) with banknotes or a bank card.
1 hour ticket (32 CZK) is enough for all routes listed here.
---
Public Transport: Arriving from the Central Transport Hubs
From the Main Train Station (Hlavni Nadrazi)
Time: 15 min.
Price: 24 CZK
Map with directions
Take a short walk from the Main Train Station to Jindrisska tram stop;
Take the tram No. 3, 6, 14 or 24 from Jindrisska to Karlovo Namesti stop;
Get off the tram and have a 3-minute walk to the apartment.

Alternative route: take the metro from Hlavni Nadrazi to Florenc (1 stop), change to the yellow line. See the directions from Florenc below for the detailed instructions.
From the Central Bus Station (Florenc)
Time: 18 min.
Price: 24 CZK
Map with directions
Take the B/Yellow line metro from Florenc to Karlovo Namesti (4 stops).
Get off on Karlovo Namesti (careful about the exit, the one you need is labelled Karlovo Namesti).
Have a short walk to the apartment.
---
Public Transport: Arriving from the Airport
Public Transport from the Airport: Bus No. 100 and Metro
Time: 45 min.
Price: 32 CZK
Last bus No. 100 departs at 23:36
Map with directions
Take bus No. 100 in front of the airport exit until the final stop, Zličín. This is the last stop of the yellow (B) line of the metro. bit.ly/2rVB6Xw
Take the metro to Karlovo náměstí (about 20 minutes journey).
Have a short walk to the apartment.
---
Arriving by Taxi or Car
Time: 35 min.
Distance: 18 km
Price: 450 – 600 CZK


ticktack.cz – approx. 550 CZK – the nicest taxis – the company's success recipe is "no fraud" and very nice cars. Order them from home before you fly to Prague, specify your flight number and they will wait for you in the arrivals hall with a name sign, no extra charge for flight delays, you can pay by card in the taxi and the driver speaks English. I'll happily book this for you
Liftago app – this is the most common local app for regular taxis. I recommend that one above Uber. Has the same features, drivers apply to your journey and you can pick as by car and rating. Links: App Store|Google Play
Uber app – Gets you to the apartment for about 350-650 CZK depending on surcharge. It works but takes a little longer than ticktack.cz and cars vary if yo
Never Park in Blue Zones
Blue parking zones are exclusive for local residents and companies. Parking there for more than 15 minutes will get you a fine
Never Stop in Disabled Parking Zones
Area around the apartment is mostly blue zones
A small part of the street is marked white
White zone: 35 CZK/hour|100 CZK/night|Free on holidays and weekends
Click on a map marker (P) to see the prices
City initiative to lighten the traffic in the city centre
Available on most non-central metro stations
Affordable
Blue zones: your car has a high chance of getting towed for parking in any blue zone. They are reserved for companies with offices in the area and people leaving in the nearby buildings.
Places not marked for parking: parking in any area that has no parking labeling will get you a wheel clamp. You will find a receipt on your windshield with a phone number written on it; call the officer on the number provided and he will remove the clamp. There is no fixed price for removing a clamp, only minimal and maximal amount. Police officers often don't speak English.
Car break-ins take the biggest share of property-related crimes in Prague
Don't leave your bag in the car
Make it obvious that there is nothing to steal from the car:

Put non-valuable items visibly behind the windshield
Open all compartments, glove boxes, etc.
German made cars priced at 30.000+ EUR and new Skoda models have the highest risk of being stolen
Cars owned by locals (in contrast to tourist cars) always have a third-party alarm system in addition to the pre-installed one. Thieves prefer tourist cars for obvious reasons.
If your car falls into the high-risk category, only use protected parking. Better safe than sorry.