We did it again, from September the 15th we got a shiny new apartment right at the old town square waiting for you to enjoy Prague.
For 2 people it is a very big space, 60sqm with sleeping room + living room + dining room + kitchen + bathroom.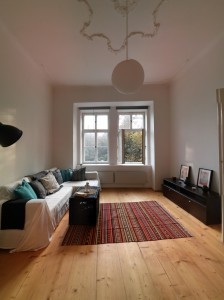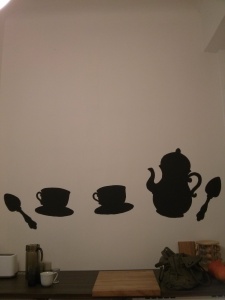 This time we tried to avoid the mistakes that we did in starting our other apartment at Vaclavske namesti. Read the whole article see our lessons learned and some short checklists.
Those mistakes were namely that we listed the apartment too early – right the moment we signed the lease contract. We prominently wrote the first guests that they may see minor things unfinished. Missing were indeed e.g. shower curtains, coffee maker, curtains in front of the windows, the fridge was without front cover. However everybody was more than happy with what they found for the price they got plus the fridge was stocked with champagne for the first guests 🙂 – see the first reviews. The actual problem was that we did have no time to finish those details and had to carry tools back and forth in order to make something happen in the 2h time slot whilst cleaning the apartment. At the end it took us another almost 6 weeks to get everything to 100% and to have the professional photos online.
Hence now it took us 4 weeks from signing the lease contract to get everything done. That included building a new kitchen, all furniture, lots of drilling, internet and energy contracts. Plus this time we left whole 2 days 🙂 unoccupied to work on perfection after the first guests are leaving their feedback and right after this, the AirBnB photographer is coming. Shiny approved pictures should be online 6 weeks after the lease contract.
All in all the quirky start of the previous listing was a very expensive experience, considering that we could have asked for better prices a full 4 weeks earlier and had a lot less stress with finishing things.
Lessons learned in case you are planning to open a new property for AirBnB
finish

all

the details before you list your property
reserve a

proper

 (at least a full day) time slot after your first guest leave to work on feedback
invest into everything you were planning to buy, don't postpone things for later, there is no 2nd photography appointment and you want to get paid 100% (of what is possible without reviews) from the start
Checklist with things to do in your new property
start going out in the area to check restaurants, bars, lunch menus – it is hard to find good places around the super-touristy areas, ask your friends for recommendations
measure everything and every detail of the flat and photograph the measures to have them with you – it sucks to stand in Ikea and don't know how much space is below the sink, one more round that costs you 2h
order the internet – O2 took 2 weeks to give us an appointment
make an Excel sheet of things to buy, group by rooms and by shops where you want to buy
register for tourist tax – they are only open Monday and Wednesday, it might be hard to fit into your schedule
since you are likely going to drive out to the shops multiple times – consider to buy the fittings and decoration after the rest is established, saves you to move things back and forth and cleaning it from dust
Share your experiences in the comments below, I am happy to extend the checklists for others to learn.