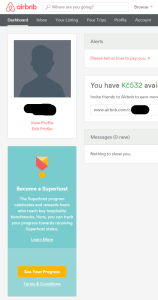 wow, after long silence and nothing being heard about that program (beside that it is being revamped) I today found a new element in my AirBnB dashboard.
The Superhost program is back!
Applying went straight forward, one click and I was superhost, thank you AirBnB!
However this is not just an additional badge on your profile but provides you an insight into metrics that you would otherwise miss and that will allow you to measure your guest satisfaction to improve.
The one key metric to me are percentage of 5-Star reviews , if you are a great host and shine with plenty of 5 stars on your listing it gets harder to figure if people were just happy or amazed. That one now tells you a bit more.
AirBnB has setup a subpage for superhosts that shows  criteria and rewards, see  airbnb.com/superhost
Criteria to be eligible
minimum 10 hosted trips
minimum 90% response rate
minimum 80% five-star reviews
no or very little(?) cancelled bookings (is there any superhost here who has a cancelled reservation?)
Rewards
Priority Support: From November 1st 2014 Superhosts get priority support
Profile Badge: a shiny button on your profile to tell your guests just how cool it is to stay with you
Product Exclusives: AirBnB invites you for product previews and Superhost-only-events
 Travel Coupon: Superhosts who maintain their status for a full year receive a $100 travel coupon.
You thing your are elegible, go ahead login in to
your dashboard
and check it!