To make your guests really feel home it is important to consider all the tiny details that make for a perfect stay. As we are having a couple of AirBnB listings in beautiful Prague I am happy to share my experience and I am planning to do a couple of articles on exactly those details.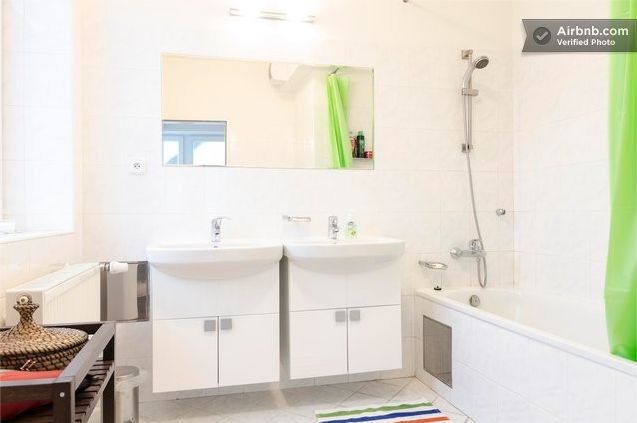 This is a list of things I consider essentials in the bathroom 
bath rug
bathtub plug
hair dryer
mountable shower (high enough!)
plenty of spare toilet paper
shower curtain (seems sometimes to be uncommon in Czech Republic but it is essential!)
soap dispenser
towels (per person: 1x shower, 1x hand) plus spare towels
trash bin
washing detergent if you got a washing machine
Here is my list of the tiny details that you could provide  to make your guest feel really special!
Some of these items actually cost money and are nice to pack, you may feel that a guest stay can get pretty expensive if someone takes them – in my experience people don't and even if you got to buy new scissors and nail-clipper after each 10 guests it gets cheap. Just trust people!
bath robes   (600 CZK in Ikea)
cotton pads (this will keep some make-up away from your towels, check Makro for them)
cotton swabs
deodorant (1x for women, 1x for men)
facecloth
glasses / cups for tooth brushes
great smelling bath oil or salt
nail clipper
one-way shavers
shaving foam
skin cream
small scissors
spare tooth brushes
sun lotion
tampons
tissues
tooth paste
travel soaps
In the big stores like Makro you can get some of these in small dosages as well as cheap tooth brushes in bigger packs, go for it. When you see cheap  (and working) nail clippers on a market – don't buy 1 but 10. We got a box with more of all those small things because they only get expensive when you have to go to the supermarket to buy one new item. You may also know a dentist who gets flooded with tiny packs of such items – ask for them.
Extra hints for the bathroom
cleaning: polish chrome and stainless steel surfaces (taps, faucets..)
hang the bathroom rug e.g. over the hot tub so that guests see it is fresh (hint from a hotel guy)
arrange candles
have some lavender to make it smell great
On any of those items, consider what guest you are addressing, buy the brand and posh stuff if you go for the luxury section and of course in low-cost most of these simply make no sense 🙂
You got more ideas about tiny details for the bathroom? Please leave them in the comments.