The Prague vegetarian scene has become really exciting: fried hermelín and fried eidam are not the only choices in the menus anymore. Instead, there are more and more vegetarian and vegan restaurants popping up, offering various cuisines and forms of culinary indulgence even to those visitors who are more interested in other faces of Prague than the wonderland of ham, sausages and gravy.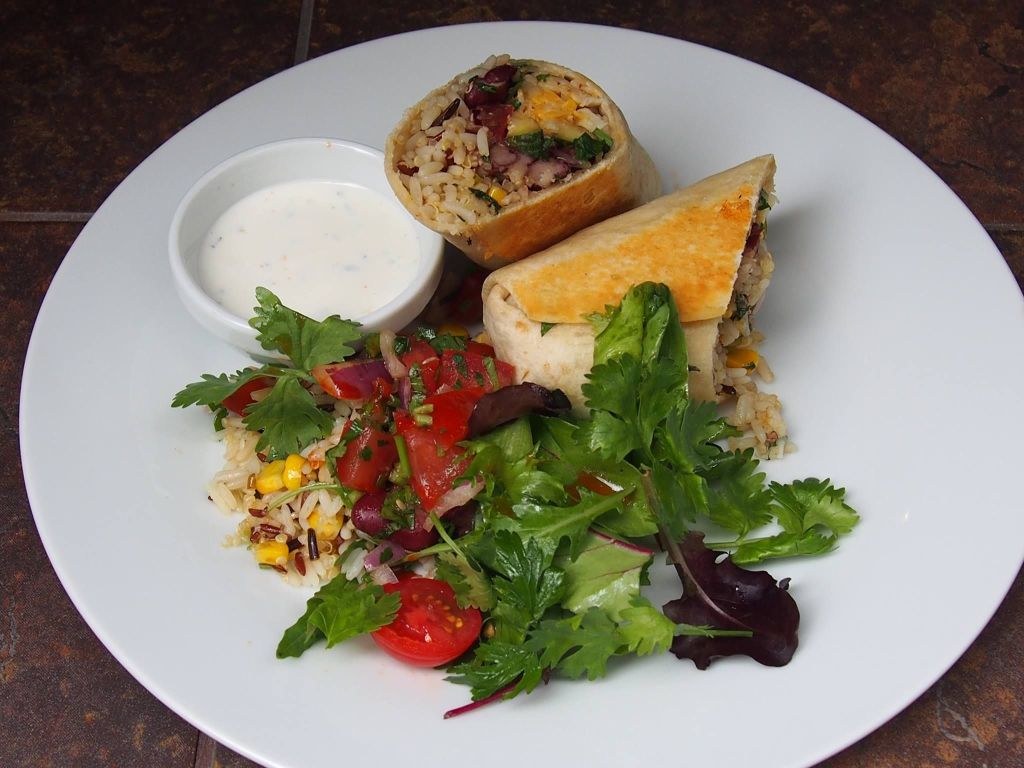 Below I'm listing some of the rightly most popular and most interesting veteraian/vegan eateries.
Estrella Restaurant, Opatovicka 17, 3 mins walk from Národní Třída or the national theatre.
This is a small vegetarian/vegan restaurant where they offer delicious lunch menus of different cuisines every day (soup+main course or soup+main course+dessert) for 125/140 CZK. In lunch hours it is rather busy but there's always place for 2-3 people if you wait a few minutes – it is really worth it. Be prepared, they only accept cash though! map| facebook page
Loving Hut is a vegan asian-style restaurant chain with a very reasonably priced self-service buffet every day in lunchtime hours. They are present in several shopping malls as well as on such convenient locations as Wenceslas square. For dinner they also have a classical menu including vegan burgers and pho! map for Wenceslas square| map for Námestí Republiki | website 
Lehká Hlava (meaning 'Clear Head') is perhaps the most famous vegetarian restaurant in Prague. It has really great lunch menus but usually it is very packed so making a reservation may be a clever thing to do. It is near the river and the national theater as well as to the old town square and it has a really magical interior that would definitely amaze meat eaters as well! map| website
BEAS vegetarian dhaba is one of the plenty vegetarian indian self-service restaurants you will find in Prague. Of their 6 locations 4 are in or close to the old town. If you go here make sure to try the dessert as well!  map (close to Mustek and Národní Třída) | map (close to the old town square) | website
Mama Coffee is the first bio fairtrade coffee roaster in Prague. They offer amazing coffee and vegetarian/vegan cakes in all of their locations Prague-wide, and in their biggest shop on Vodíčková (5 mins walk from Wenceslas square) they also have lunch menus and even dinner. Their hummus and cream soups will never let you down! map | website
Radost FX is a really unique and long established Mexican, Greek, Thai, and Indian style vegetarian meals. They have great wraps, hummus, beans and middle eastern cuisine and an unforgettable atmosphere. map | website
Options in regular restaurants
Most "normal" restaurants have a vegetarian option in their lunch menus between 11 am and 2 pm, and you can of course always find fried cheese or some other cheese dish even in the most traditional Czech places.
Nákladany hermelín: a pickled Camembert style cheese served with onions and bread – perfect with beer for diner
Smažený hermelín: a fried Camenbert style cheese in breadcrumbs
Smažený sýr / eidam: a fried Edam style cheese in breadcrumbs
Smažená Niva: a fried blue cheese in breadcrumbs